Steven Seagal's Filmography
"You guys think you're above the law, but you ain't above mine."

-Nico Toscani (Above The Law)

"Well.. One thought he was invincible, the other thought he could fly. So.. they were both wrong."

- John Hatcher (Marked For Death)

"Is that the best you got boy? If that's the best you got, then I'm just gonna have to kill you."

-Jack Cole (The Glimmer Man)

"Maybe it's mood swings, my hormones, I dunno, but I'm starting to get in a bad mood!"

-Gino Felino (Out For Justice)

"You give me what I need I'm gonna leave here a nice guy, you don't I'm gonna f*ck you up!"

-John Hatcher (Marked For Death)
Above The Law
(1988)
Steven Seagal plays a Chicago cop who takes on CIA types in this action thriller from Andrew Davis Davis brings muscle to the project, including some strong set pieces that make Seagal (who also co-wrote and co-produced the film) look awfully good. Costars Pam Grier and Sharon Stone give a big assist in that department, too, Seagal's getting profound with a villain in his raspy monotone: "You think you're above the law. But you're not."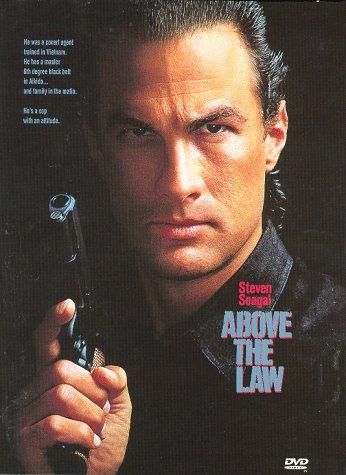 Hard To Kill
(1990)
After making his action-hero debut in 1988's Above the Law, Steven Seagal followed up with this typically formulaic action thriller, in which the ponytailed crime fighter is shot full of bullets and left for dead after he uncovers a powerful circle of corrupt politicians. After seven years in a coma, he returns to consciousness and is nursed back to health by--surprise, surprise!--a gorgeous woman, played by Seagal's then wife Kelly ("don't hate me because I'm beautiful") LeBrock. Once in peak condition, snarlin' Steve sets out to satisfy his hearty appetite for revenge, and the bone-crunching action kicks into high gear with the requisite chases, hand-to-hand combat, and escalating body count. This is one of Seagal's best vehicles, establishing the star's screen persona before it grew stale in later films.
Marked For Death
(1990)
The glowering brutality that is aikido headbanger Steven Seagal's substitute for a star persona at least gives us a rancid taste of authenticity in this cookie-cutter action picture. This glum lug seems to really enjoy hurting people; he snaps limbs and shatters noses with visible relish. Pitted against a crew of Jamaican gangsters who invade his (white ethnic) Chicago neighborhood and threaten his family, retired DEA agent John Hatcher sets out to solve the case with robotic efficiency, kicking butt in just about every scene. Not quite as pudgy in this 1990 outing as he became a few films later, Seagal looks like the genuine, lethal article in the fight sequences, but like a hopeless amateur when he tries to act his way out of the waterlogged-paper-bag of a script. So what else is new? The one bright spot here is Basil Wallace, a mostly unsung actor who throws himself into the showy role of the Rasta gang-boss Screwface, a garishly scarred psycho with piercing ice-blue eyes.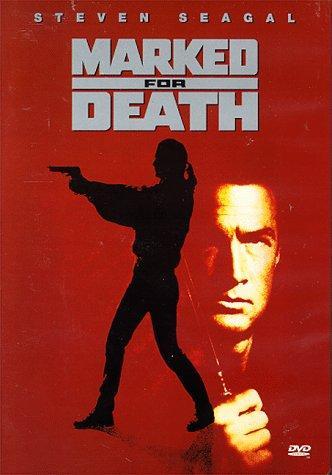 Out For Justice
(1991)
Steven Seagal has always been an awkward action hero. Initially, he had a certain amount of credibility thanks to his nebulous association with secret government agencies and mastery of aikido, which helped to excuse his bad acting. But as a self-righteous action hero in the vein of Schwarzenegger and Stallone (which helps to explain his bad acting), Seagal fell into unintentional self-parody faster and more dramatically than either of his two predecessors. In Out for Justice, Seagal plays Gino Felino, a Brooklyn-born cop known and respected by everyone--both good and bad--in his neighborhood. The worst of the neighborhood baddies is Richie Madano (William Forsythe), a crack-smoking killer who murders his partner and terrorizes the neighborhood. Technically, Felino is a terrible cop--touching evidence at murder scenes, stealing evidence, intimidating witnesses--but only by breaking those rules can he bring in this horrible criminal. As his soon-to-be-ex-wife discovers, he does everything because he cares too much. Julianna Margulies (ER) has a small but thankless role as Richie's hooker girlfriend, and Gina Gershon (Face/Off, Bound) has an equally thankless role as Richie's foul-mouthed, bar-owning sister. The movie plays like a vanity piece for Seagal, and in that vein, it is fascinating to watch.
Under Siege
(1992)
Steven Seagal can consider himself lucky if he ever makes a better movie than this one, which was appropriately dubbed "Die Hard on a battleship" when released in 1992. Seagal handles the heroic duties with his usual wooden efficiency, but the movie's greatest assets are a punchy script and the scene-stealing performances of Tommy Lee Jones and Gary Busey. The two play leaders of a terrorist group who take over the venerable battleship USS Missouri during its final commissioned voyage. They're crazed psychotics who seize control of the ship's nuclear arsenal, but they don't know that Seagal--as the ship's cook, no less--is a former Navy hero, lurking in the shadows and waiting to spoil their nefarious scheme. Director Andrew Davis (The Fugitive) helms the action with skillful style, and as the cheesecake stripper who proves handy with a hand grenade, Playboy Playmate-turned-actress Erika Eleniak gives Seagal another reason to strut his macho stuff. Under Siege is hormonal hokum for gun-happy viewers, but as action movies go, this one's a definite guilty pleasure.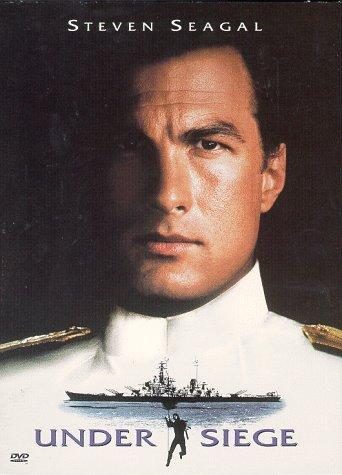 On Deadly Ground
(1994)
An Alaskan oil worker is left to die in the Arctic wilderness after threatening to go public about unsafe drilling practices. Ultimately, he plots his revenge after being rescued by a tribe of Eskimos.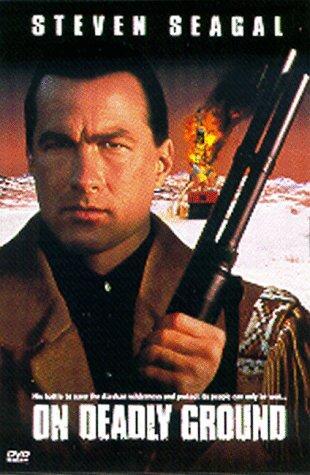 Under Siege 2
(1995)
The success of Under Siege made a sequel mandatory according to Hollywood's rules of maximum revenue, and as sequels go, this one's not half bad. Steven Seagal returns as former Navy SEAL and skilled chef Casey Ryback, who's trying to spend quality time with his niece on a cross-country train trip. But as luck and action-movie formulas would have it, the train has been hijacked by a demented genius (Eric Bogosian) who is using the train as a moving platform to seize computerized control of a top-secret U.S. satellite that is capable of causing earthquakes from space. Seagal has to stop the train or the villain (whichever comes first), and the action is fast and furious on its way to a high-speed climax. He's not as wacky as Tommy Lee Jones in the first Under Siege, but Bogosian has got a delirious quality that serves the comic-book plot, and action fans get more than their fill of dazzling stunts and special effects.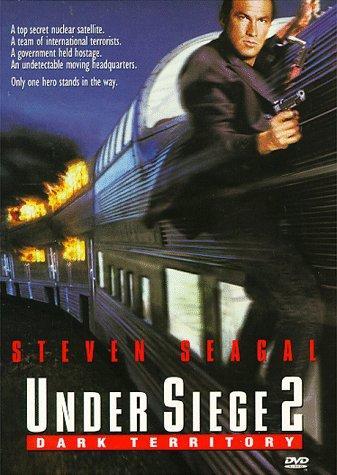 Executive Decision
(1996)
Steven Seagal gets killed during the first 20 minutes of this enjoyable thriller, so the movie scores points for ingenuity because it immediately improves when you realize that Seagal's role is just a heroic cameo. That leaves Kurt Russell to star as an American intelligence expert who (due to Seagal's untimely demise) finds himself leading a strike force against Islamic terrorists who have seized in-flight control of a 747 jetliner with 400 passengers. It's not all that different from Air Force One, but the formula story perks right along with considerable suspense as Russell's cohorts (Oliver Platt, Joe Morton) try to defuse a chemical bomb that could wipe out (you guessed it) the entire Eastern seaboard. John Leguizamo plays one of the U.S. commandos attempting to stop the violent hijackers, and Halle Berry costars as a flight attendant who risks her life to assist Russell's rescue team. As action movies go, Executive Decision marked an impressive directorial debut for veteran film editor Stuart Baird.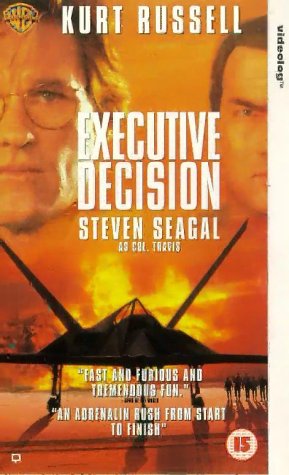 The Glimmer Man
(1996)
Steven Seagal needed a new approach to his standard head-busting heroics, so he teamed up with Keenen Ivory Wayans for this routine 1996 action flick. This time stone-faced Steve plays Los Angeles homicide detective Jack Cole, newly transplanted from New York and teamed up with Jim Campbell (Wayans). They're assigned to track down "The Family Man," a serial killer who earned his nickname by crucifying entire families and leaving religious graffiti as his calling card. The case heats up when the latest victim turns out to be Cole's ex-wife, and Cole is considered a primary suspect. That makes Seagal get really mad--you don't wanna get Seagal too upset, y'know--but he still has time to quote Buddhist wisdom and crack wise with Wayans, who plays it relatively straight as the practical half of this partnership. It's typical Seagal stuff all the way, with obligatory fight scenes every 10 minutes or so, but Seagal fans will enjoy it, and Brian Cox makes a suitably hissable villain.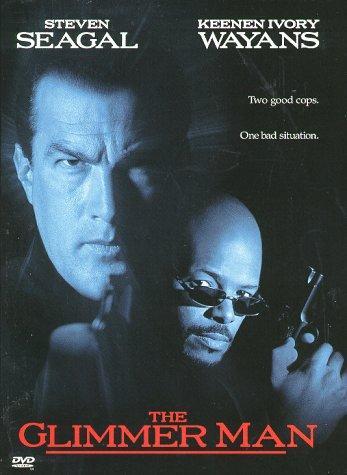 Fire Down Below
(1997)
Here's a movie that only a Steven Seagal fan could love. It's not nearly as good as Under Siege (the movie destined to remain Seagal's high-water mark), but not any worse than Above the Law. This time ol' Steve is an agent of the Environmental Protection Agency who's busting heads in Kentucky. He's on good terms with the local yokels (including Marg Helgenberger and Harry Dean Stanton), but locks horns with a slimy mogul (Kris Kristofferson) who's using abandoned mines to dump toxic waste. Along with an ecological message, Seagal serves up several broken limbs, cracked skulls, and bloody noses, and he even finds time to do some guitar picking with country boys such as Travis Tritt and Randy Travis. Once you've heard Seagal crooning a country tune, you'll be eager to see him go back to whuppin' the bad guys.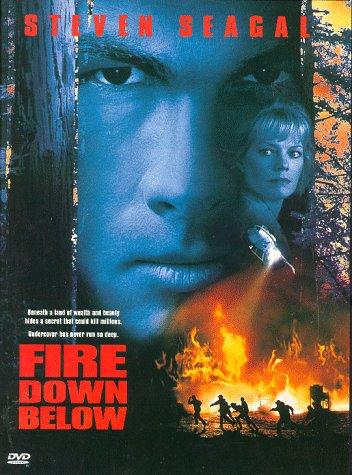 The Patriot
(1998)
Hollywood action star Steven Seagal provides big-screen heroics in this exciting, nonstop hard-hitting thriller where every second counts! Dr. Wesley McClaren was the government's top immunologist before giving it all up for a quiet practice in a small Montana community. But the peace is abruptly shattered when a violent extremist group unleashes a rapidly spreading lethal biological agent and takes over the town! As more and more people die from a baffling illness, the edge-of-your-seat suspense only intensifies as McClaren races to outsmart the militia men and find a cure before the insidious disease spreads worldwide!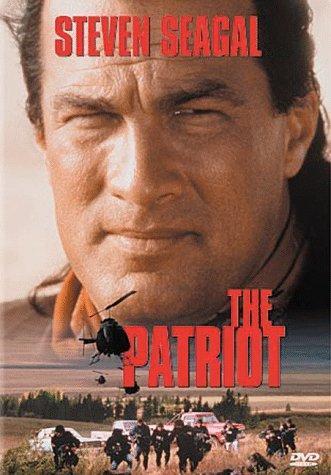 Ticker
(2000)
When a mad bomber (Dennis Hopper) descends on San Francisco it's up to two men to uncover his plot and find the massive bomb hidden somewhere in the city. Steven Seagal stars as the Zen leades of the bomb squad and Tom Sizemore is a vice cop out for vengeance. Featurning special appearance by pop sensation Chilli.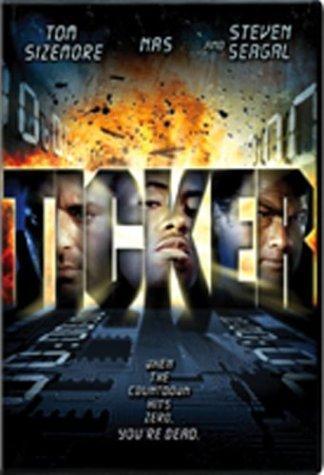 Exit Wounds
(2001)
One can always count on Steven Seagal to act as the repository of yesterday's action-film clichés, and Exit Wounds is yet another case in point. Seagal plays Detroit cop Orin Boyd, a lone wolf lawman who gets in the middle of his precinct's losing battle against police corruption. Taking on a powerful but crooked cop named Montini (David Vadim)--who is busy making deals with a rich gangster (DMX)--Boyd soon sends fists and feet flying while Tom Arnold provides the comic relief. Director Andrzej Bartkowiak surely had less fun guiding Seagal through slow-motion fight sequences than he did Jet Li in Romeo Must Die, but as compensation he gets to work with the mesmerizing DMX, who looks as though he has leading-man possibilities. Plenty of gratuitous gore, awful cop banter, and miles of cleavage courtesy of Jill Hennessy, who plays Boyd's tough-as-nails boss.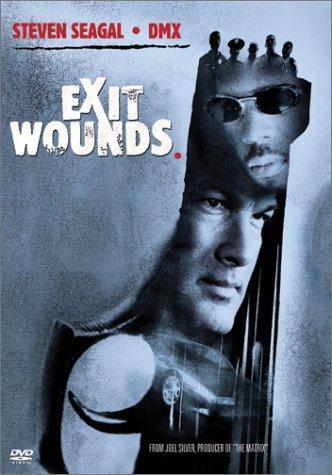 Half Past Dead
(2002)
Despite critical roasting and a blink-and-you-missed it theatrical release, Half Past Dead is surprisingly not half bad. Once you recognize this bastard child's recent action-flick heritage (The Rock being the most obvious of a dozen pilfered plot lines), you can kick back and enjoy the unexpected perks that arise when a deep-cover FBI sleuth (Steven Seagal) accompanies a convicted crook (rapper Ja Rule) into "New Alcatraz" prison. A death-row killer (Bruce Weitz) sits on a $200 million goldmine, keeping his secret as a bargaining chip when criminal commandos (led by the ever-cool Morris Chestnut) drop in for a lethally greedy raid. After cutting his teeth on trashy, short-lived TV series, director Don Michael Paul can't do much to help the puffy, career-tanking Seagal, but he's got lively allies in Ja Rule and alleged "has-been" Nia Peeples (forget Lara Croft, this babe rocks), and even legendary action-TV producer Stephen J. Cannell drops in for a cameo. Derivative from the get-go, but fun just the same.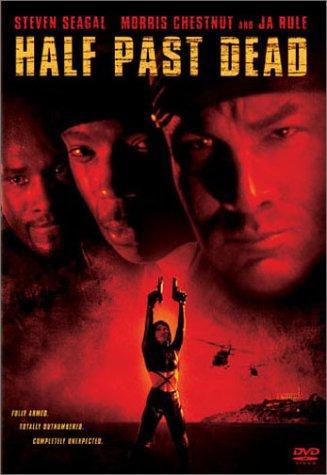 The Foreigner
(2003)
There must be an audience for Steven Seagal movies, but it's hard to imagine who would actually want to watch a movie like The Foreigner. Seagal, bloated and puffy-faced, plays a super-professional operative of some kind, who on this occasion is supposed to deliver a package from someone (it doesn't matter who) to a super-rich industrialist. The industrialist's beautiful blond wife tries to intercept it, Seagal prevents this, then decides to help her out, and lots and lots of people get killed in impractical and implausible ways. Almost every scene is so full of "mysterious" dialogue as to be incomprehensible. The Foreigner tries to create a veil of cool action attitude to disguise the lack of cool and the lack of action. Seagal mumbles. Seagal frowns. No one shoots Seagal, despite numerous opportunities to do so and no reason not to. Why was this movie made?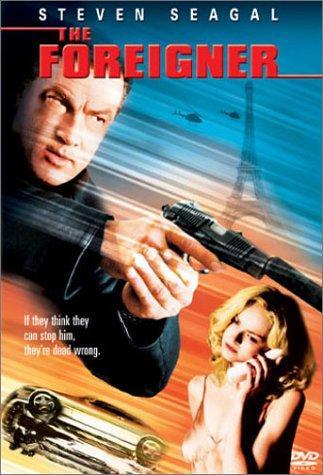 Out For A Kill
(2003)
Archeology Professor Robert Burns is on location leading an important dig in the ancient ruins on the Far Eastern Chinese border. He accidentally discovers that the Chinese Mafia, the Tong, is using his newly discovered ancient Chinese artifacts to hide and smuggle narcotics across the border. Robert immediately tries to flee with his assistant and narrowly manages to escape the pursuing Tong but not without a heavy price. His loyal assistant is killed and he is framed with the evidence at the Chinese border by the Chinese military and U.S. Drug Enforcement Agency.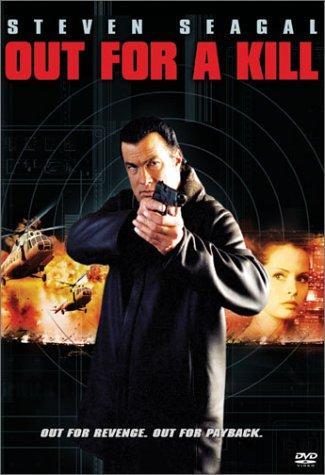 Belly Of The Beast
(2003)
An action-packed thriller starring Steven Seagal about an ex-CIA agent's quest to find his kidnapped daughter that leads him down a trail of intrigue, corruption, danger and betrayal. Two girls are kidnapped by a group of Islamic fundamentalists known as the Abu Karaf. One girl is a senator's daughter, who will be used as a political pawn. The other girl, Jessica, is seemingly inconsequential – just in the wrong place at the wrong time. But what the Abu Karaf could not possibly know that they picked the wrong girl. Jessica's father, Jake Hopper, is ex-CIA and will and will stop at nothing to get his daughter back.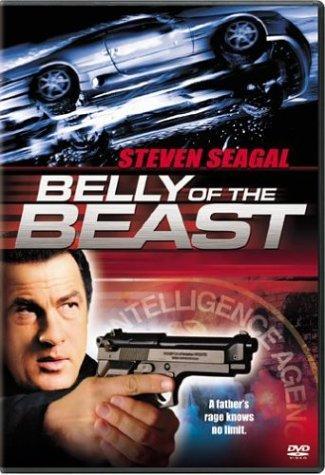 Clementine
(2004)
Clementine. Mediocre taekwando melodrama from Korea, barely watchable stuff, only notable for an extended cameo from Steven Seagal. A real downer for fans, like myself, of Asian cinema, who often forget that there's crap being made over there, too.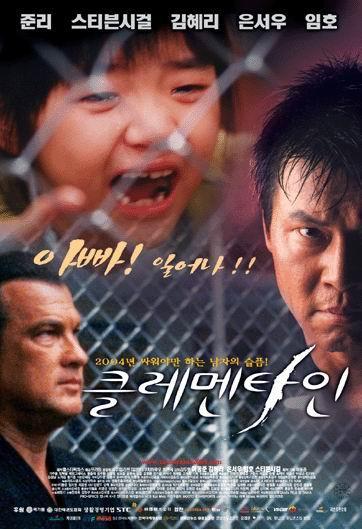 Out Of Reach
(2004)
Billy Ray Lancing (Steven Seagal), a former covert agent turned survivalist, discovers that the foster program he is using to help a young girl is actually a human trafficking network. Lancing heads overseas to find the girl and shut down the operation.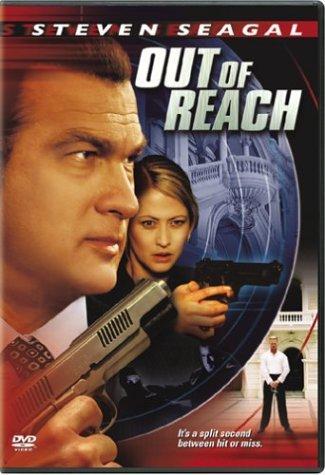 Into The Sun
(2005)
Action superstar Steven Seagal is back in this nonstop thrill ride! When the governor of Tokyo is murdered, it falls on ex-CIA agent Travis Hunter to track down the responsible terrorists. However, the plot to kill the Governor is only the beginning of a web of corruption and violence. Hunter discovers a plan by a rising Yakuza leader to build an enormous drug-dealing network with the Chinese Mafia. With time running out and the Yakuza determined to see their plan through, Hunter must thwart the operation - and get out alive.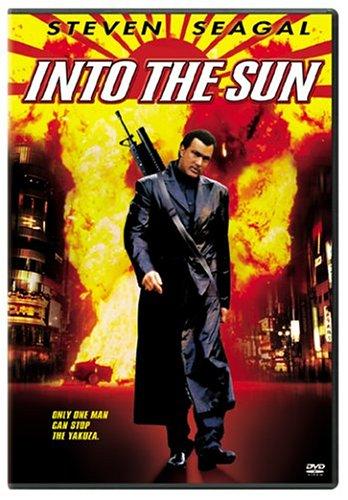 Submerged
(Released DTV On May 31)
There's a submarine crew trapped at the bottom of the ocean and after cases of a biological agent are broken. The crew have to fight against the mutated creatures that are attacking them, a U.S. destroyer that has turned against them and traitors from within.